deep decorum
iterate faster and find better design solutions
With the help of data analysis and machine learning, design becomes accessible and more comprehensible. Research and design processes can be accelerated. Charts also create an alignment for teams and stakeholders within the design process.

map out your solution space
data science helps to define and visualize a solution space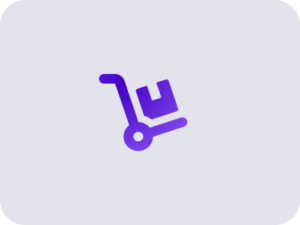 1. choose the domain of your product or service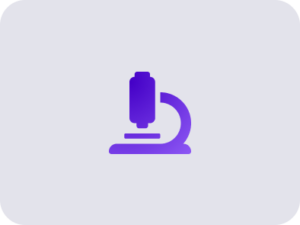 2. identify quality marker and constraints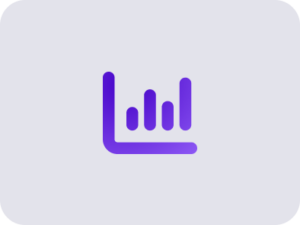 3. map out pitch areas and sweetspots
the concept of decorum
"decorum" is a ancient communication principle which describes the appropriateness of a message for its intended purpose and context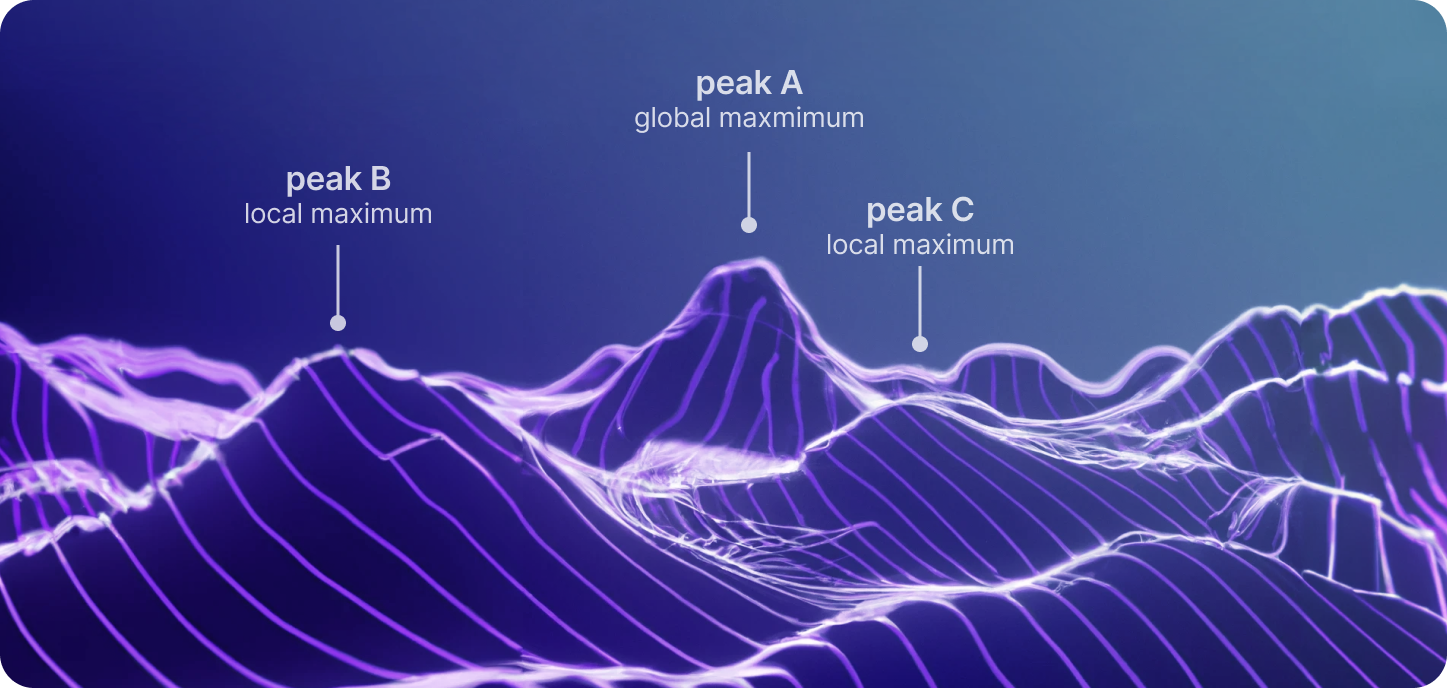 Given the example, Peak-B and Peak-C might be a well established design stereotype or cliché. Out of fear of missing the right tone with the audience, these stereotypes are not challenged.
But by analyzing the whole solution space we may find an even better fitting global maximum: Peak-A.
example: University Branding
The data is based on an analysis of the world's top 1000 universities (via QS World University Ranking, 2019). For this purpose, logos were visually analyzed with regard to the signets used (word mark, seal, coat of arms, etc.) as well as other attributes.
The graphs use conventional representation of statistics (PCA, UMAP, MDS).
1. Business Understanding
The first step is to clarify the goal and the desired result. This also includes values, target groups and stakeholders.
Goal

:

What

is

to

be

achieved

?

What

are

your

values

:

why

–

what

–

how

?

Understanding

users

and

requirements

:

Design

Research

Stakeholder

Research
Based on the target group and the industry environment, a competitor analysis is carried out. From the problem definition, goals for communication are formulated and visual arguments are derived.
Market research – initial overview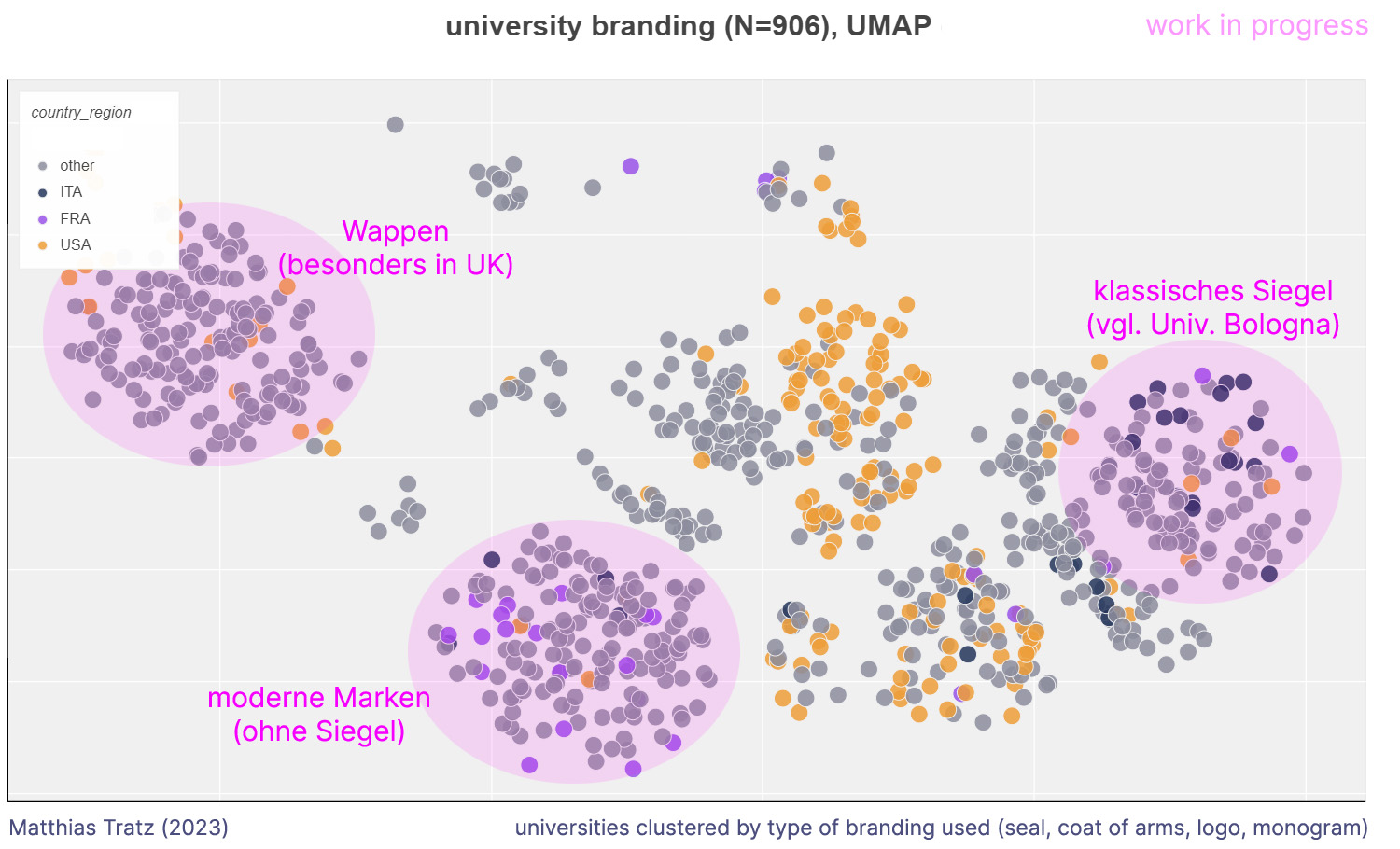 Result
Problem

statement

Competition

narrowed

down

Communication

goal

defined

Visual

argument

(

how

the

statement

should

be

communicated

)
What follows is a detailed analysis of the competition and the current market environment. In our example, the logos of the universities were first analyzed. It was collected whether they contain word marks, seals, coats of arms, etc. and what visual features they have (font, elements, characteristics).
Identify clusters and patterns (focus on USA and Europe)
interactive charts (Hover)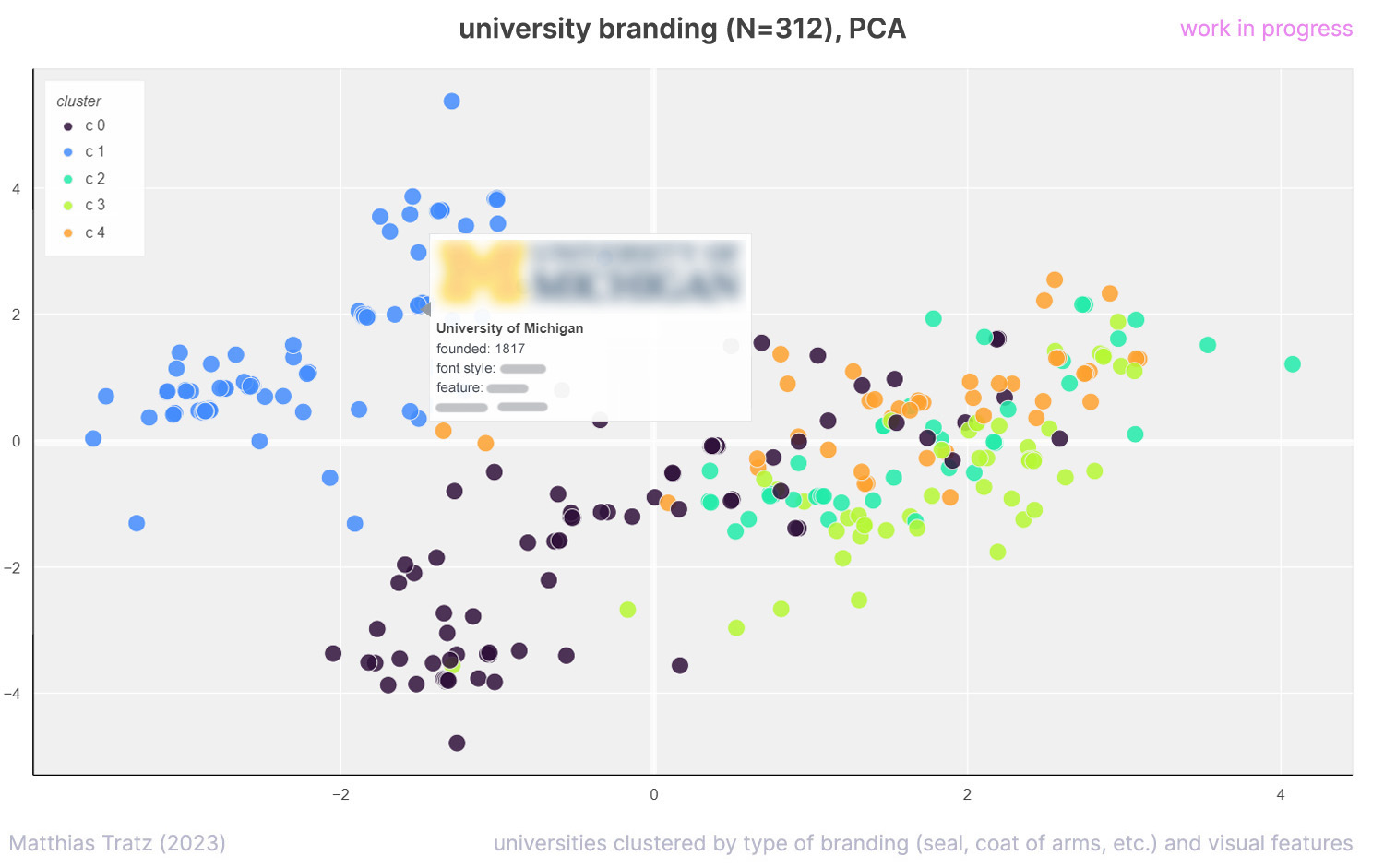 Competitor analysis
detailed insights into clusters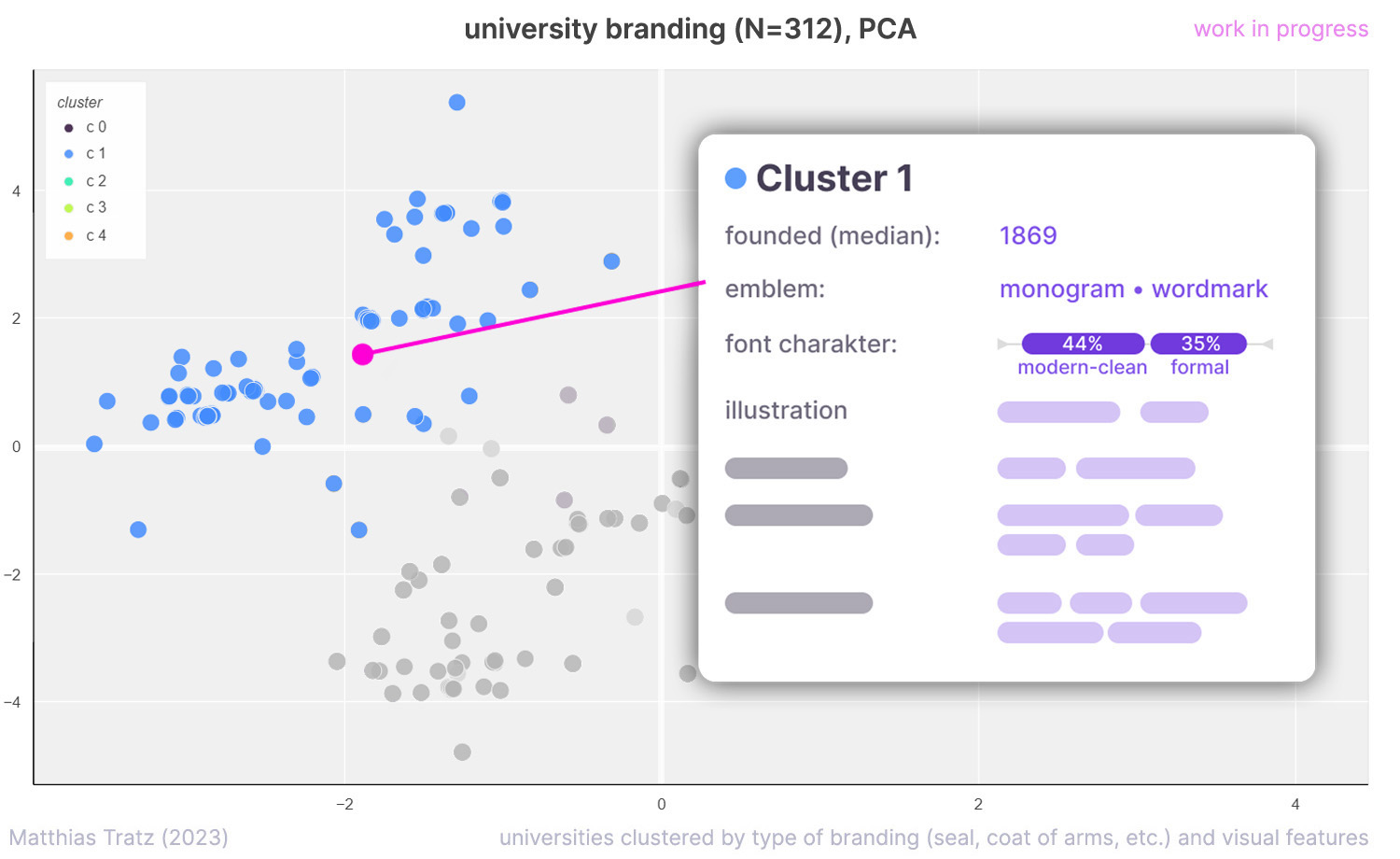 Check communication goals with cluster findings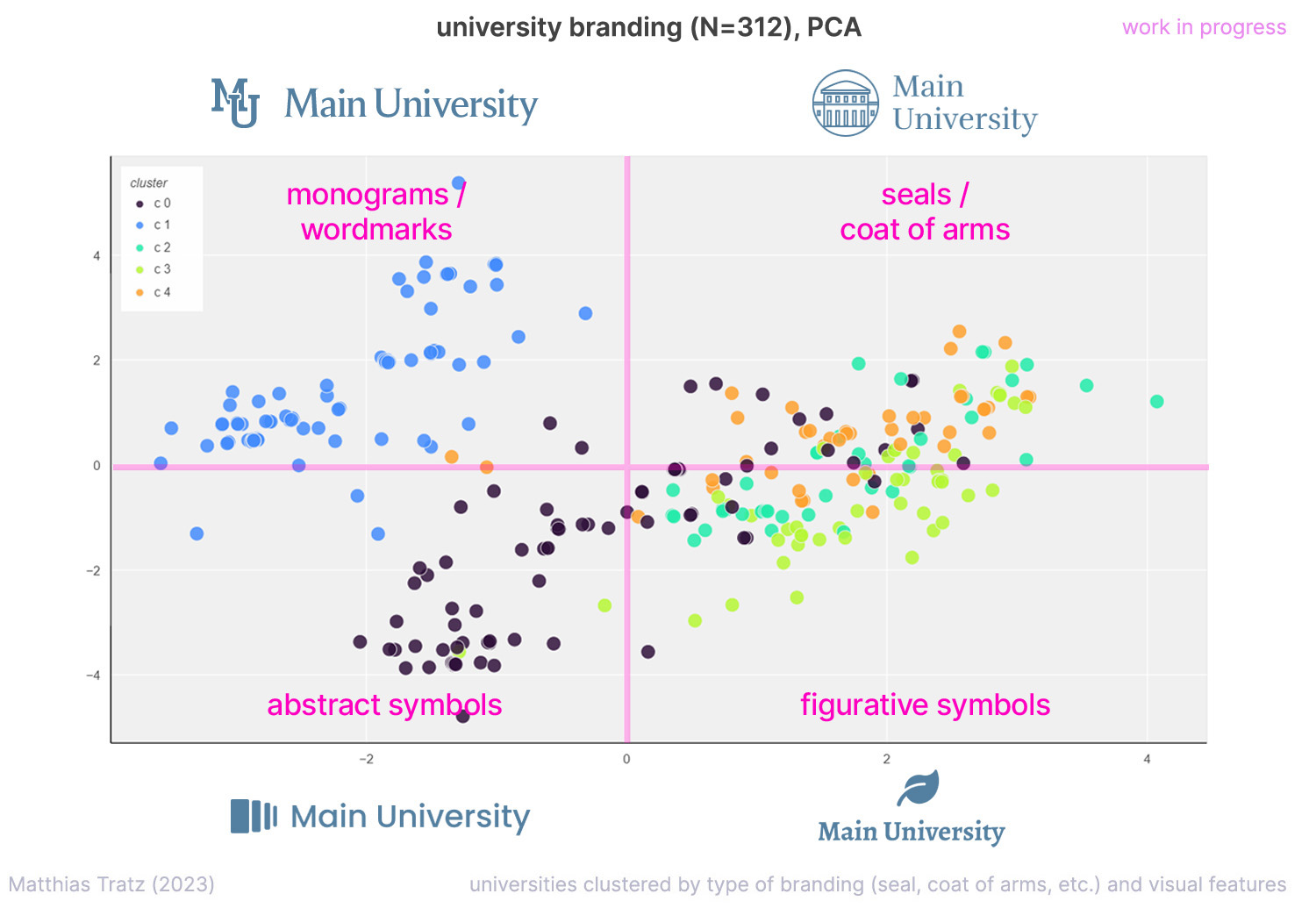 Visual Mapping (selection seals / coat of arms)
for legal reasons the logos are blurred here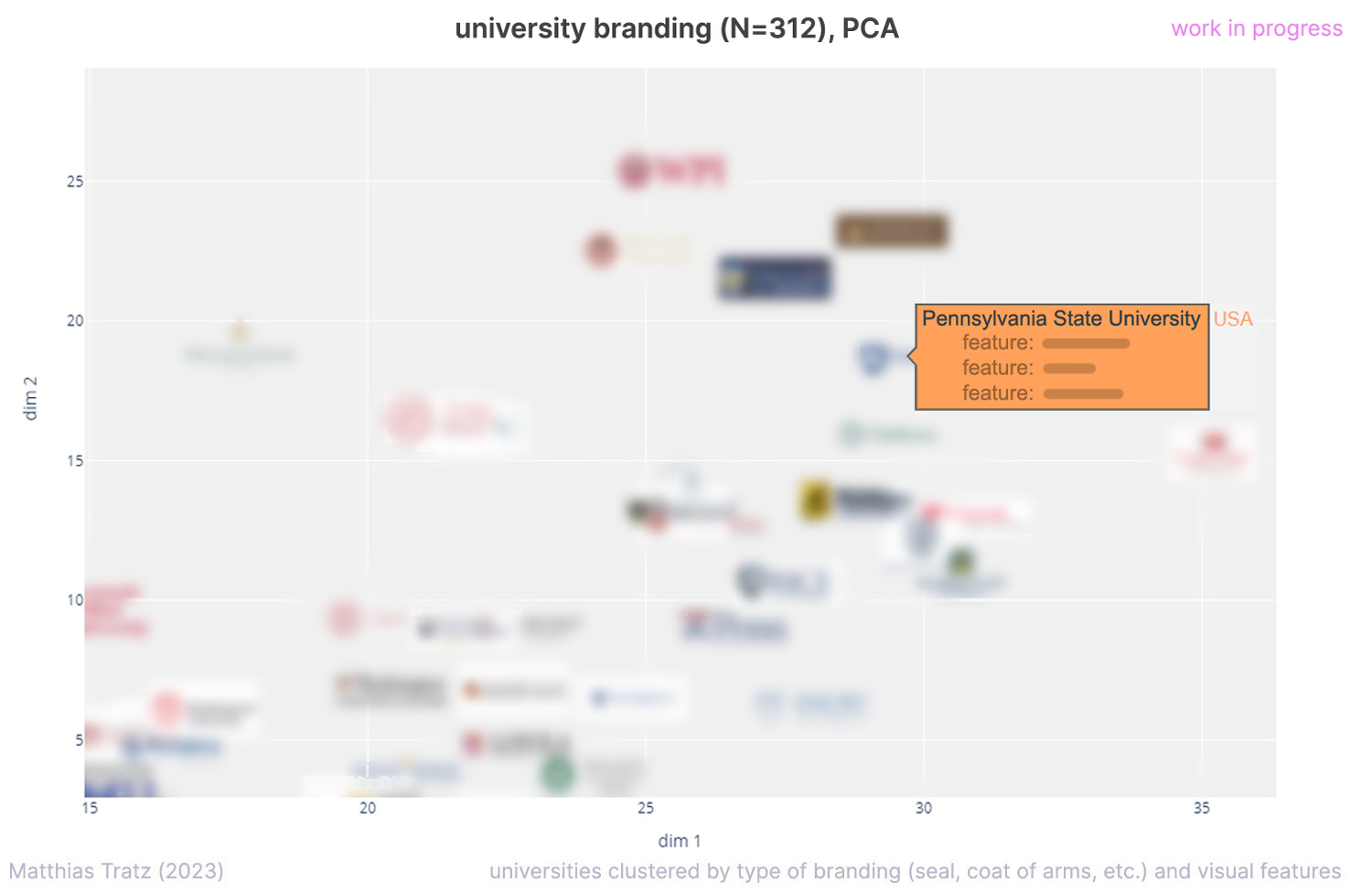 Providing a sense of design space
(each point is expandable via mousehover)

Find your positioning
Discover the sweetspot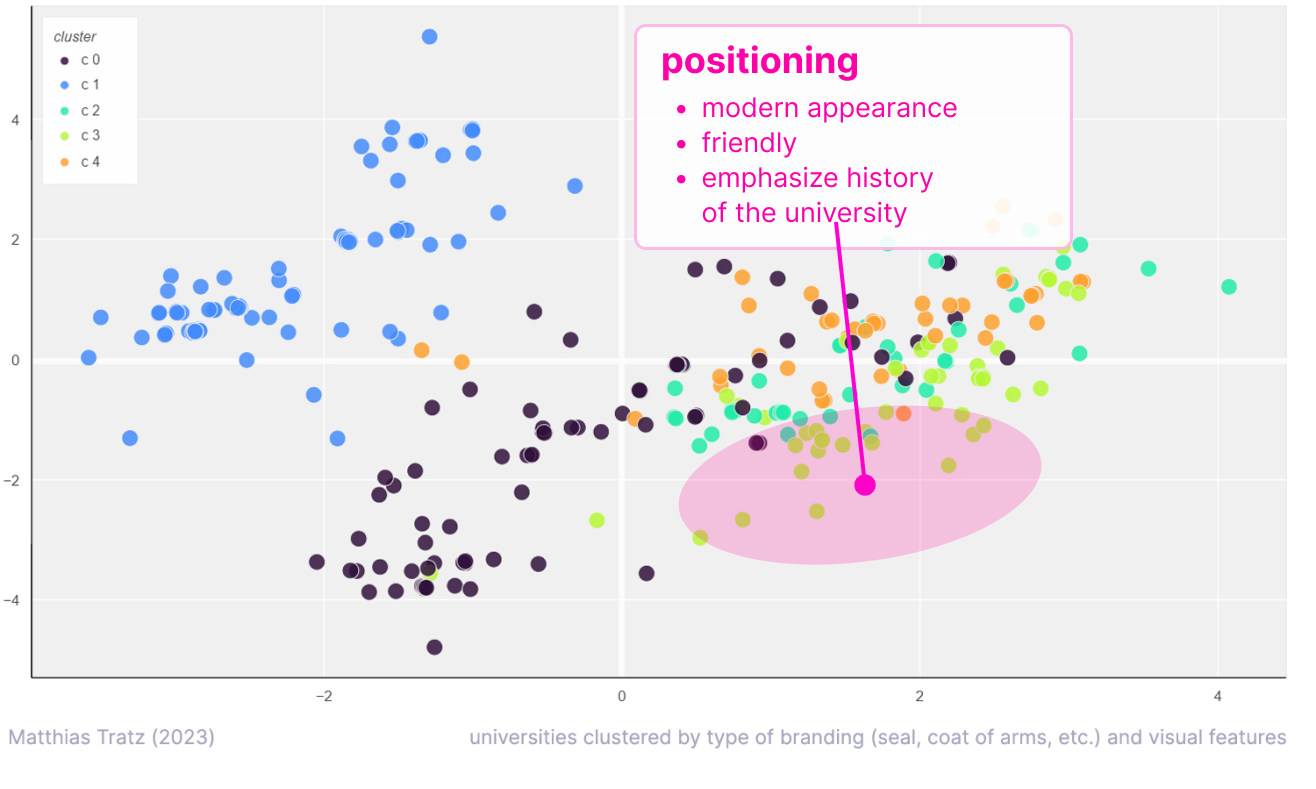 Result
visualization

of

the

Solution

Space

as

charts

interactive

graphs

,

with

hover

information

understand

current

trends

find

positioning

and

(

new

)

niche
Benefit
faster and more comprehensive competitor analysis

visual insight at the push of a button

precisely targeted starting points for positioning

faster development of mood boards

The communication goals and findings from the visual analysis serve as constraints (conditions) for the design. Visual exploration helps to avoid misunderstandings and inappropriate approaches from the beginning.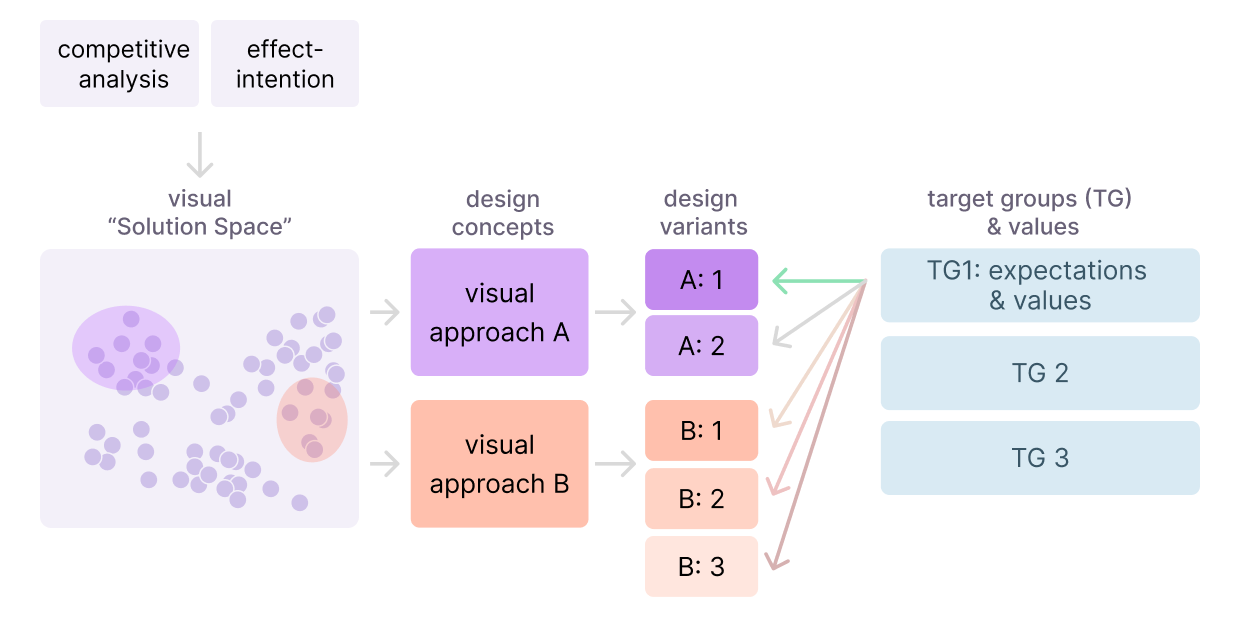 Result
target

–

oriented

designs

clear

design solution

Benefit
faster development


designs with higher accuracy
In the following step, the drafts are discussed with users from the target group and stakeholders. Misunderstandings or "wrong readings" should thus be further excluded. For universities in particular, it is important that the appearance can create identification.
Result
valid

feedback

possible

and

early

points

of

criticism
challenges of design
Design must convey content in the right way. The choice of visual expression is constantly influenced by cultural, social and technological change ❶. At the same time, design must meet the values and expectations of the target group, which are also changing ❷.
The visual argument must therefore be right from two sides – it must be currently coherent – and it must be perceived as accurate by the target group.

why is decorum important?
importance of decorum
decorum is about creating appropriate, fitting, and effective communication
making sure your message is interresting for your audience
building trust and credibility with our audience
missing decorum
incorrect language or a misplaced style can turn people off
if you don't fit the concept of "decorum", you may be ignored by your audience
your brand may be seen as unprofessional